ENROLMENT FOR SUMMER CAMPS IS CURRENTLY SUSPENDED.  
POSTPONED! CHECK BACK IN MAY FOR NEW DATES
Circus Camp is Back!
For ages 7-14
What could be more fun than learning circus arts from a team of professional performers in a real circus tent?  This workshop will introduce multiple circus disciplines and work to the level of each individual. Students will experience the thrills of tumbling, swinging trapeze, tightwire, aerial silks, juggling, hula hoop and partner acrobatics all in a safe and encouraging environment. General conditioning and stretching techniques will be emphasized to promote healthy exercise habits.  Our instructors will also share a bit of circus history.  The workshop will be completed by a Student performance.
Signed Liability Waiver must be submitted by legal guardian before child may attend.  
Camp starts at 10:30am and ends at 2:30pm daily.  Check your location for exact dates.
Special day camps and workshops in select locations…
In cooperation with various partners, Flynn Creek Circus offers shorter course workshops for various ages and organizations. Contact us for more information or to engage workshops in your area.
Recommended attire:
Students should wear comfortable clothing that covers the knees. Shirts should be tight or able to tuck in for upside-down activities. If students have flat-soled tennis shoes, ballet slippers or gymnastic shoes, please bring.  Bare feet are okay.
Longer hair should be tied back.  We recommend not wearing jewelry as it is easily lost or broken.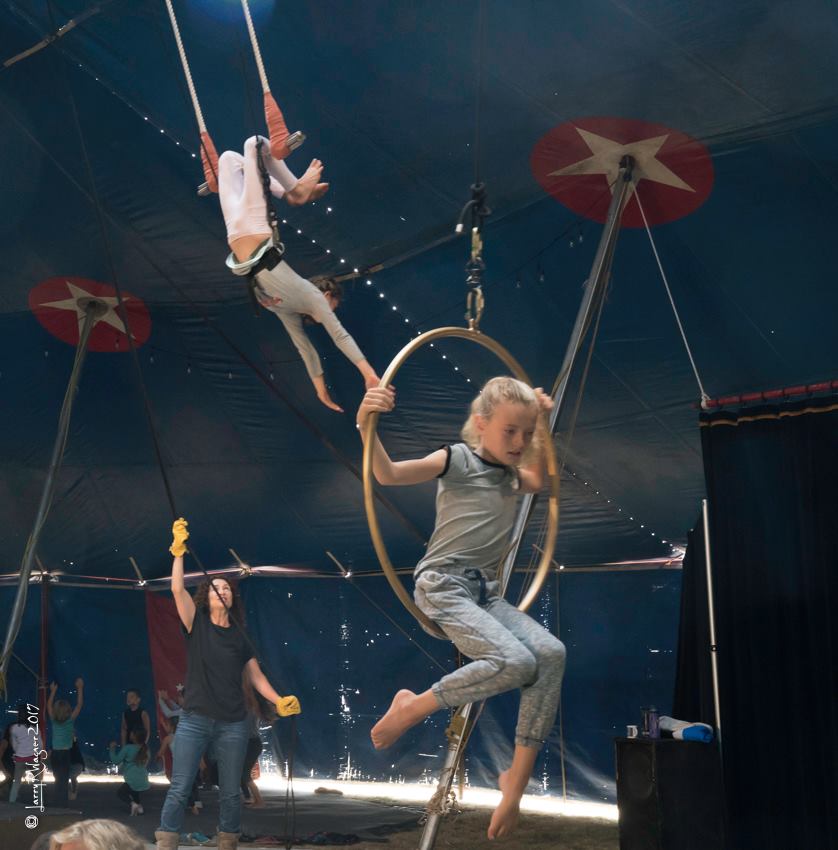 Frequently asked questions:
My child is not quite 7, can they attend?
-We want the students to be working at similar developmental stages.  Students are grouped by age.  Exceptions to the 7 year requirement can be made for students with previous experience and a recommendation from their coach.
Are scholarships available?
-Yes!  A limited number of scholarships are given at each location by various organizations including Circus Mentors Inc., Mendocino Children's Fund and the City of Ukiah.  Scholarships are need based.  Please contact us if you would like to apply and we will direct you to the appropriate organization.
When is the student performance?
-The students will perform a short recital (about 1 hour) on the last day of the camp.  The recital is held from 2pm-3pm and is open the public.  There is no fee to attend the recital.
My child is really interested in trapeze.  Can they perform trapeze in the recital?
-Students will have an opportunity to try each of the activities multiple times during the camp.  For the recital, each student will perform 2 activities.  The activity choice is pulled from a hat in order to keep the show balanced. So…we don't know…only the hat knows.
My child is over 14, or we are unable to attend these locations.  Do you offer classes?
-Flynn Creek Circus is primarily a professional show.  However, please contact us.  We would be happy to connect you with teachers in your area and we do occasionaly host workshops for adults.  Let us know how we can help.
CONTAGION PREPAREDNESS STATEMENT
We are taking this opportunity to train our staff and update our practices.  Hands free sanitizing dispensers will be at the entrance of the tent available to the public.  Surface areas are being sanitized daily before open and after each showing.  Participants will be asked to wash their hands before and after each session activity.  We hope these extra precautions will keep our staff and campers safe and healthy.